Red Feather CO real estate
Red Feather CO real estate information. If you're contemplating buying Red Feather Colorado real estate, here are some quick facts that might interest you. On average, there are about 102 Red Feather homes for sale (90 single family residences, and 12 condos/townhomes). The average price of single family homes is approximately $233K, while the average sticker price of a townhome/condo is approximately $359K. You should know, though, that prices can be as low as $49,500 and as high as $995,000. The low end generally represents small rustic mountain cabins, some of which may have primitive conveniences. Even those, however, sometimes come with more land than you would think.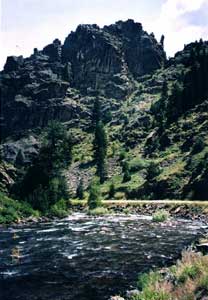 Photo credit:
Poudre Canyon & Red Feather Lakes Tourist Council
Mountain People.
Up in the mountains in Larimer county you find a small unincorporated town called Red Feather Lakes. The name evokes thoughts of nature pure and simple, with icy-cold lakes surrounded by evergreen forests, all shimmering under blue skies summer and winter. It is a small community with only about 500 people living there year-round in
Red Feather Lakes homes
. In the summer the population swells dramatically, with weekenders and snowbirds, and vacationing families or groups who come to enjoy the mountain surroundings. This town has a down home family feel to it and is very open to new visitors and prospective residents.
Retreat Center. A unique attraction in Red Feather Lakes is the Shambhala Mountain Center, a retreat and teaching center built with the teachings and practices of Tibetan Buddhism foremost in mind. The center has been a part of the mountain community since 1970. People come from all over the world to take classes in Yoga, attend seminars on meditation and the mindful arts or listen to speakers and teachers on various fields of thought and learning. The central feature of the complex is The Great Stupa of Dharmakaya, which is in itself a fascinating story.
Schools. The school links above will show you a list of all current Red Feather homes for sale by school, for each of the school levels shown. You will find almost all Red Feather Lakes homes are served by Red Feather Lakes Elementary School right in town, Cache La Poudre Jr. High School in La Porte, and Poudre High School in Fort Collins. The latter two schools are a bit of a bus ride, but for the 2005-2006 school year they were both rated "High" in the Colorado School Accountability Reports. All three schools are part of the Poudre School District.
Housing market and availability for Red Feather CO real estate. There are only about a thousand housing units in the Red Feather Lakes planning area, so that average of 102 listings that we mentioned earlier represents a healthy number. The end of 2006 showed some tightening of the supply, with a corresponding increase in average prices. There is still a large variety of home types and styles on the market. That would be favorable for you to find what you want, if you decide to go for the mountain lifestyle. We can help you find the perfect place.
Start your Red Feather home search today. If you haven't done so already, try our Automated Homefinder to instantly search for all Red Feather real estate currently for sale. You'll have access to over 40,000 homes, hundreds of thousands of pictures and virtual tours, and research tools. It's free, and there is never an obligation.