Johnstown CO real estate
Robust growth. There is a reason for the phenomenal growth in Johnstown CO real estate. In 1902 when Harvey Jay Parish named the town for his ailing young son John, he had already helped dig irrigation ditches alongside other hardy pioneers, with bare hands on shovels. They turned the harsh terrain into an agricultural paradise, and filled it with their dreams. Is that the reason, or at least part of it?
Out in the country. The town in modern times is built on and surrounded by that same farmland, ranch and dairy country where crop and beast grow rich and full. So is it the land that causes that growth? Could it be the mountain air that washes over the area constantly, nourishing and invigorating the town and its people? Or maybe it's the people themselves, drawn to opportunity in the wide open spaces. The Johnstown Town Council describes the town as "...the new hub of possibilities in northern Colorado." Possibilities. If there's anything that can make a place grow, that should be it.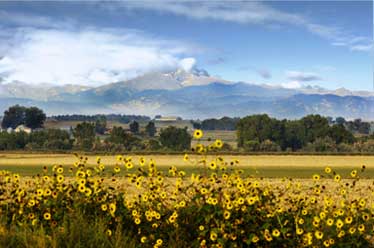 Photo credit: Town of Johnstown
Population, housing inventory and pricing. To give you an idea of the amount of growth we're talking about, look at the population as of the 2000 census when there were 3,827 residents. Now, with a recent (2005) estimate of over 7,000 people, that's almost double in 5 years. A lot of new people in the area means big numbers in construction, more new Johnstown CO real estate for sale, and big new homes. The housing inventory available for sale peaked in early 2006. The number of Johnstown CO homes for sale has eased somewhat since then, leveling out by year end. Average and median prices during that period remained steady, with a healthy distribution of lower-priced (under $100K) older homes and the top of the range ($800-950K) classic homes on acreage. The average price of homes sold in this market was remarkably stable, around $250K throughout the period. If you follow our suggestion to try Automated Homefinder, with registration you will be able to check out the relevant statistics not only on a city basis, but by neighborhood as well, for any listing. You will also be able to see instant comparisons for properties that interest you, selected not only by the asking prices but also by square footage, price per square foot, and lot size. Yes, instant.
Climate and environment. Mr. Parish's town has a few other things going for it, as residents will tell you. The weather in Northern Colorado, for example. First thing we'll mention is the number of sunny days per year, 239. Rainfall is 17.4 inches per year, compared with the US average of 38.8. Snowfall, at 29.6 inches per year, is pretty close to the US city average of 24.4 inches. The July high temperature is around 80 degrees, and the January low is 3. The town itself, and the developments around it are surrounded by corn fields, dairy farms and ranches, giving a comfortable feeling of being in a pleasant rural setting. Johnstown Colorado real estate for sale affords you an excellent path to home ownership in an environment where "close to the land" is more than a faint memory. The main agricultural concerns are familiar, solid country businesses: the Carnation Milk Company facility which has operated since 1913 as a milk condensary, and the Great Western Sugar Factory which has made sugar from molasses since 1925.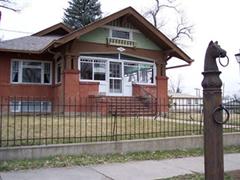 Historic Parish House and Museum
Photo credit: Johnstown Historical Society
Location. Being situated right between Denver and the Fort Collins - Loveland - Greeley triangle, Johnstown CO homes have easy access to great recreation, medical services, shopping and entertainment, all within 10 to 20 miles.
And John? Nice of you to ask. He recovered, thank you, lived in the town all his life and served as Mayor from from 1929 to 1935.
Be sure to check out Automated Homefinder to instantly search for all Johnstown real estate currently for sale. You'll have access to over 40,000 homes, hundreds of thousands of pictures and virtual tours, and research tools. You can track Johnstown or several locations at once, and you'll get immediate notification of anything new on the market that fits the criteria that you select. Remember what we said about instant information? You got it! And on top of that it's free, and there is no obligation.