Horsetooth Reservoir real estate for sale
Unlike Bellvue, which is North of Fort Collins, and somewhat isolated, Horsetooth Reservoir Colorado homes are conveniently located between Fort Collins and Loveland, both of which have populations above 100,000, and all of the amenities that come with 100,000 plus population towns. Real Estate for sale in Horsetooth Reservoir is typically limited to only 5 or 10 homes, but one common thread exists: Lots of home, lots of land, and itís cheap! In addition to being able to find a home on some land, Horsetooth Reservoir Colorado homes are within minutes of Ė you guessed it Ė Horsetooth Reservoir! Granted, you donít typically get nearly as much land as you might find North of Fort Collins in Bellvue, but there are plenty of tradeoffs. Horsetooth Reservoir homes are within a half hour of major highways, Fort Collins, Loveland, boating, fishing, hiking in the mountains, amazing views, great schools & more.
The reservoir itself sits in the foothills above the town on the western side of the Dakota Hogback, and the reservoir sits along its eastern side of the hogback. Over the past several years, luxury homes have been being built along the eastern side of hogback ridge, causing some anger among some residents of Horsetooth Reservoir & Fort Collins. It has also caused a disruption in land conservation efforts by the city and county, but the views from those homesites is simply amazing. Recreational boating is popular during summer months, and swimming is allowed only in certain areas of a section of the reservoir that is a part of Lory State Park, or in a Larimer county-owned facility at the southern end. The dam used to be popular fishing spots, but parking on the dam is no longer allowed, so those willing to hike to the dams can now fish with quite a bit less competition.
If you really want to be close to water, but donít want to be in too remote a location, Horsetooth Reservoir isnít your only option. Nearby Loveland has Boyd Lake, a very large lake that many residents and visitors love to take advantage of, and unlike the Horsetooth area, Loveland has all of the amenities of a large city. To find out more about Loveland CO real estate, click here.
Featured Horsetooth Reservoir Listings: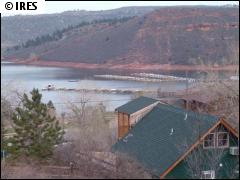 Property address:
4133 Kano Dr, Horsetooth Reservoir CO 80526
<---Click here for more information
2 bedrooms, 2 bathrooms, 891 sq ft.
QUIET SURROUNDINGS, STUNNING VIEWS OF LAKE & FOOTHILLS MOUNTAINS, Rare Opportunity, Overlooking the Inlet Bay at Horsetooth Reservoir, Just 10 minutes drive west of Ft Collins. This home has been professionally remodeled from top to bottom -Includes Hardy Siding, 30 year shingles, Updated Electrical, Granite Tile & New paint & carpet plus much more, Everything goes-Ready To Move In, Super access to boating, fishing, hiking trails & mountain parks.
For complete information on Horsetooth Reservoir homes for sale, Check out Automated Homefinder to see what Horsetooth Reservoir real estate is currently available. Youíll appreciate the decisionmaking power it puts in your hands. You choose the kind of home you want, and we go through over 40,000 Colorado listings to find what matches your desires. If itís not on the market yet, youíll be notified immediately when it is. Youíll be able to take advantage of powerful analysis and search tools Ė whether itís in the Horsetooth Reservoir area, other nearby cities and towns, or anywhere you choose. And oh yes, itís free.