Greenwood Village CO Real Estate
Greenwood Village CO real estate information. Looking into Greenwood Village CO real estate, are you? Here's some useful information. On average, you can expect to find around 120 Greenwood Village homes for sale. There is an unusually small seasonal variation – a normal maximum in late summer and early fall as high as 140, and down to maybe 110 in the dead of winter. About two thirds of the total units on the market will be single-family homes, and the rest townhomes or condos. Single family home prices average in the 800 to 900 thousands, while the average price for a condo or townhome is around $335K. Greenwood Village real estate listing prices can be as low as $145K, but have no doubt this is a pricey area, with as many as 10% of the listings usually over $2.5 million, up to as high as $6.5 million. Pricey is a relative term, and while the comment may seem a little peremptory, the residents of Greenwood Village homes enjoy spacious, luxurious surroundings.
Greenwood Village: A history in three parts.  During the 1880s, Colorado's potato king Rufus Clark reinvested his potato profits into Colorado real estate, and eventually owned a large portion of what is now Greenwood Village. At the same time, Denver Attorney Cyrus Richardson was running Greenwood Ranch, an area now covered by Cherry Hills Village's Glenmoor subdivision, and Horseshoe Park and the Preserve in Greenwood Village.
The area maintained its character as a farming and residential community, with the occasional summer home for Denverites, until the late 1940s. But by 1950, urban sprawl encroached, and the neighboring town of Englewood wanted to condemn the property of one of the local landowners and build a reservoir for its own use. At that point the community leaders presented a plan to establish Greenwood Village, a three square mile parcel named for the Richardson Ranch, and the plan was adopted on September 8, 1950. Greenwood Village has continued to grow through several annexations over the years. The most important of these occurred when the city annexed the Denver Tech Center after an extended period of legal wrangling, and increased the city's tax base enormously.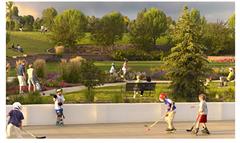 Photo credit: Greenwood Village, Colorado
Greenwood Village Attractions. Greenwood Village offers plenty of opportunities to enjoy the outdoors in its nearly 176 acres of parks, 273 acres of open space, and great cultural and recreational facilities. Youth sports include T-ball, day camps, golf, soccer and lacrosse camps. Springtime brings the in-line hockey program, and the winter youth basketball tournaments are very popular. Adults – basketball, softball, volleyball, you got it!

The Highline Canal Trail Network passes through Greenwood Village's open space wetlands and nature preserves, giving photography enthusiasts and artists ample material with which to restore their minds and hone their skills.
There are trails for hikers and cyclists, softball and soccer fields, and play areas for the younger set.
With its four equestrian parks, Greenwood Village is a true haven for horse lovers.
The Curtis Arts and Humanities Center, housed in a 1914 schoolhouse, both exhibits the artwork of local individuals and offers ongoing workshops in which professional artists instruct students of all ages in watercolor, drawing, and oil painting.
Dining in Greenwood Village. As home to the Denver Tech Center, Greenwood Village has restaurants to satisfy every hankering from fast food and juice bars to trendy Continental or stick-to-your-ribs comfort food.

Del Frisco's Double Eagle Steakhouse is one of the few restaurants which still permits an after-meal cigar, and Joel McDonald – the owner of Benchmark Realty – claims Del Frisco's to be the single best steakhouse in Colorado.
For Southwestern flavor, there's Ocotillo. The cactus-named restaurant even has its own version of guacamole, enlivened with chipotle cream, black beans, and corn. Seafood lovers will like the salmon with maple glaze and cinnamon butter. And the cinnamon shows up again with a dessert of bunuelos, cinnamon-sugar dusted fritters served with ice cream.
Yia-Yia's has a balcony overlooking a pond and fountain, great for people-watching as you dine. The name is Greek but the cuisine is the best of everything from the Continent, from creamy bisques to wood-fired pizzas and herb-broiled salmon.
Greenwood Village Today. Less than nine miles from all the cultural and sporting venues of downtown Denver, Greenwood Village has still managed to maintain its independent character, while offering in the Denver Tech Center one of America's premier business and retail parks. Combined with the excellent community facilities and attractive residential areas, this makes for a vibrant, lively place to live.
Population and housing. The population in the city of Greenwood Village as of the last 2000 census was 11,068. The population is now closer to 13,000, a growth of 16% in seven years, quite a spurt for this 8-square-mile area. With 4,800 or so housing units in the city, the current inventory of homes for sale – 120, give or take a few – compared to that number tells you the Greenwood Village Colorado real estate market is like a boutique shop rather than a big-box store. What you will find is a carefully selected, unique line of products.
Start your Greenwood Village home search today. If you haven't done so already, try our Automated Homefinder to instantly search for all Greenwood Village real estate currently for sale. You'll have access to over 40,000 Colorado homes for sale, hundreds of thousands of pictures and virtual tours, and research tools. You'll get immediate notification when homes matching your desires come on the market. It's a free service, no obligation.