Federal Heights CO real estate
Federal Heights CO real estate information. If you might be interested in shopping for Federal Heights CO real estate, here are some quick facts you might be interested in. On average, there are about 43 homes for sale (37 stand-alone homes, and 6 condos/townhomes.) The price for single family residences average about $148,000, while the average sticker price of a townhome/condo is approximately $166,200. (However, housing prices can be as low as $33,000 and as high as $230,000.)
It is interesting to note that it is extremely rare that condos and townhomes are more expensive than single family homes, but in this case, this anomaly is explained by the fact that Federal Heights has a large amount of modular homes – which are far less expensive. If you ever consider purchasing a modular home, be sure to discuss this in-depth with your real estate agent.
History of Federal Heights Colorado. In 1927, Colorado & Southern Railroad employee Harvey Larsen paid $1000 for 2 1/2 acres of land north of Denver. The property overlooked Federal Boulevard, a two-lane dirt road, so Mr. Larsen named it Federal Heights. As Federal Boulevard became busier, he opened the North Federal Heights Grocery and Supply Station. Its location is now the intersection of W. 92nd Avenue and Federal.
Over the next decade the Federal Heights vicinity saw the arrival of 33 more residents. They relied on a mineral-saturated well on Mr. Larsen's acreage to supply their water. So in 1940 they decided to incorporate, and then drilled a new, clean well. That well served the community's needs until 1955.
While the Federal Heights residents were dealing with their water difficulties, Harry Ruston was building the first privately-owned airport in the United States at 1000 North Federal Boulevard. It had an 8000 foot runway, and served as a training field for hundreds of World War II pilots. The airfield remained open until 1961, when the development of Northborough, Legacy Heights, and Federal Plaza areas began.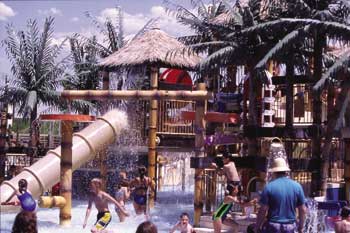 Federal Heights Attractions. Federal Heights' best-known attraction and biggest employer is the great family-focused Water World Theme Park. Its 64-acre site has been featured on the Travel Channel's "Waterparks 2004" series.
Federal Heights is convenient to the recreational offerings of its neighboring community, Westminster. Westminster's Standeley Lake Regional Park has boating, fishing, and overnight camping facilities. And the park's Big Dry Creek Trail, a hiking and biking route, extends twelve miles from the shore of Standeley Lake to Federal Boulevard. At the corner of West 83rd and Federal is the Stanford White-designed "Westminster Castle." Originally built as a Presbyterian university, it is on the National Register of Historic Places. Federal Heights is only eleven miles, on I-25, from of all the Mile-High City's world-class museums, sports venues,shopping, and dining.
Federal Heights today. Looking to the future, Federal Heights city officials have established a Master Plan to encourage development of an eight acre parcel along the I-25 corridor. The city has also undertaken a parks and neighborhood improvement initiative. Struggling only a few decades ago to find adequate well-water, and now the home of Water World, Federal Heights has come a very long way!
Population statistics for Federal Heights Colorado. The population in the city of Federal Heights as of the last census was 12064, and there were 5332 housing units. The current inventory of homes for sale compared to the total number of housing units can be a great indicator of whether a certain city is saturated, or not, at the current time. That ratio could make a big difference in what you end up paying for that home you want when you find it.
If you haven't done so already, try our Automated Homefinder to instantly search for all
Federal Heights real estate
currently for sale. You'll have access to over 40,000 homes, hundreds of thousands of pictures and virtual tours, and research tools. It's free, and there is never an obligation.